FAQ
How do I know which version of Babylon I am using?
In order to check your which version of Babylon you are currently using, right click on the Babylon icon (it is on the system tray near the Windows clock).
Click Help, then click About Babylon. There you can see which Babylon version is installed on your PC.
Starting version 10.0.3, the Babylon version is stated at the top of Babylon translator, next to the Babylon logo.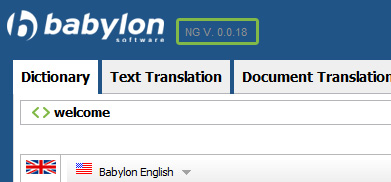 If you have an active monthly or annual subscriptions, you can download the latest version here.
If you have a lifetime license for an older version or need to renew, click here.
Back to Questions