FAQ
Babylon MAC V3.1.3 is designed to seamlessly integrate with your Macintosh working environment, enabling instant translation and providing dictionary results in over 75 languages.
Babylon Mac V3.1.3 includes:
1. Quick Look plugin – Babylon has undertaken the challenge to expand your built-in Quick Look when clicking on text
2. Menu Bar - Looking for a specific word, translation or auto-completion? Babylon Menu Bar saves you all the trouble.
3. Autocompletion – no more spelling mistake or misused words. Babylon works to expand text as you type, making suggestions of complementary terms.
What's New?
'Quick Look' gives you a sneak peek of content (files & folders, documents, video, etc.) without ever opening it. Babylon extends your Quick Look experience by providing instant translation preview in an adjustable, transparent window. This gives you instant translation without having to interrupt your work flow.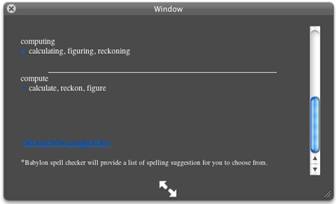 Looking for a specific word, translations auto completion?

Babylon's Menu Bar saves you time.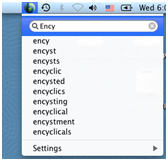 Babylon menu bar activation is designed on the same concept as spotlight. It provides an 'always on top' search box, where the you can type and Babylon will alternative suggestions. Every term can be clicked and translated. This means no more spelling mistakes or time wasted looking for the correct word or translations - with Babylon MAC, reading and writing in all languages is easier, faster and more efficient.
The Babylon auto-complete feature expands text as you type and suggests related complementary terms. Babylon automatically offers you word suggestions as you type, lessening the possibility typos and saving time. When you identify the word you are looking for, click on it and Babylon will instantly translate it.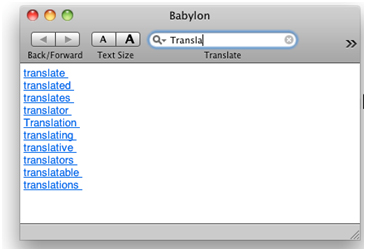 The auto-complete feature helps users to express themselves in foreign languages, and assists when searching for similar expressions.
Feature Overview
Dictionaries and Glossaries
Just click on text in any desktop application and get immediate access to any installed dictionary or encyclopedia covering a wide range of topics and themes. Babylon MAC software also delivers results from over 1,700 free online dictionaries, glossaries and encyclopedias, including Wikipedia in over 25 languages.
Text translation in a single click
Babylon Mac provides the translation of words, phrases, sentences, phrase or whole paragraphs of text to and from 33 languages - all in a single click.
Wikipedia content in a single click
Babylon Mac delivers results in over 25 languages from Wikipedia.
Cross-languages dictionary
Babylon can now be used to translate between any language, such as French to Spanish, German to Japanese, Turkish to Swedish and many more.
Built-in spellchecker
The built in spell checker provides spelling suggestions and short definitions that will enable you to identify and decide on the correct word
Localized user interface
Localization to: English, German, French, Italian, Japanese, Portuguese, Spanish and Hebrew.
For further assistance please click here
Back to Questions