FAQ
What is the conjugation function for Babylon?
Babylon can display a list of all possible conjugations and inflected forms (e.g. future, present progressive form, plural, etc.) for ENGLISH terms.
If a term has conjugations/inflections, a down arrow is displayed next to the part of speech notation in the Babylon Window. Clicking the button opens the conjugations/inflections list.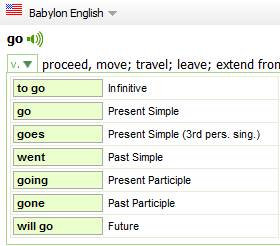 For further assistance please click here

Back to Questions