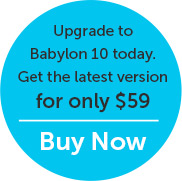 FAQ
What do I do if Babylon 10 OCR fails to read PDF text in Acrobat Reader?
A couple of things to keep in mind:
Babylon can only translate from the Adobe Acrobat Reader and not from any other Adobe Acrobat applications such as writer, e-Books, or scanned texts in PDF.Some PDF's are locked documents, meaning that you cannot copy, edit, or translate with Babylon until you unlock them.If neither of these points help, then please try the following steps:
1. The first thing you will need to do is download the new Plug-in by Clicking Here.

2. Next, find the file (check your downloads folder) and move it to: ProgramFiles\Adobe\Reader XX\Reader\plug_ins\Babylon.

3. Open Adobe Reader

4. Got to "preferences" by using keyboard shortcut CTRL+K

5. Click on the "General tab" on the left.

6. Make sure that the "Only Use Certified Plug-ins" box is unchecked.

7. Close Acrobat by clicking on the "X" on the top right corner of the screen, and then re-open it by selecting it from programs.

8. Restart Babylon by right clicking on the Babylon icon on the bottom of the screen and selecting exit, and then re-opening it by selecting it from programs.


For further assistance please click here



Back to Questions